It all started with a celebration, like most things in Italy do. When the Great Duke Cosimo of Medici married Eleonora of Toledo in 1539, in Florence's Palazzo Medici Riccardi. The palace's main courtyard-garden was adapted into a theatre of such grandeur and glamour that it became a trend during that time. The outdoor court became a sort of an indoor space: a massive light blue cloth used as the ceiling, from which golden cupids and lanterns hung, while large panels with paintings picturing the Medici's triumphs were placed as walls, all these details as recollected by the famous 16th. Century histographer Giorgio Vasari. The best and most famous architects and scenographers were part of this project, such as Bastiano da Sangallo (the court's architect and creator of the machinery used for the play presentation).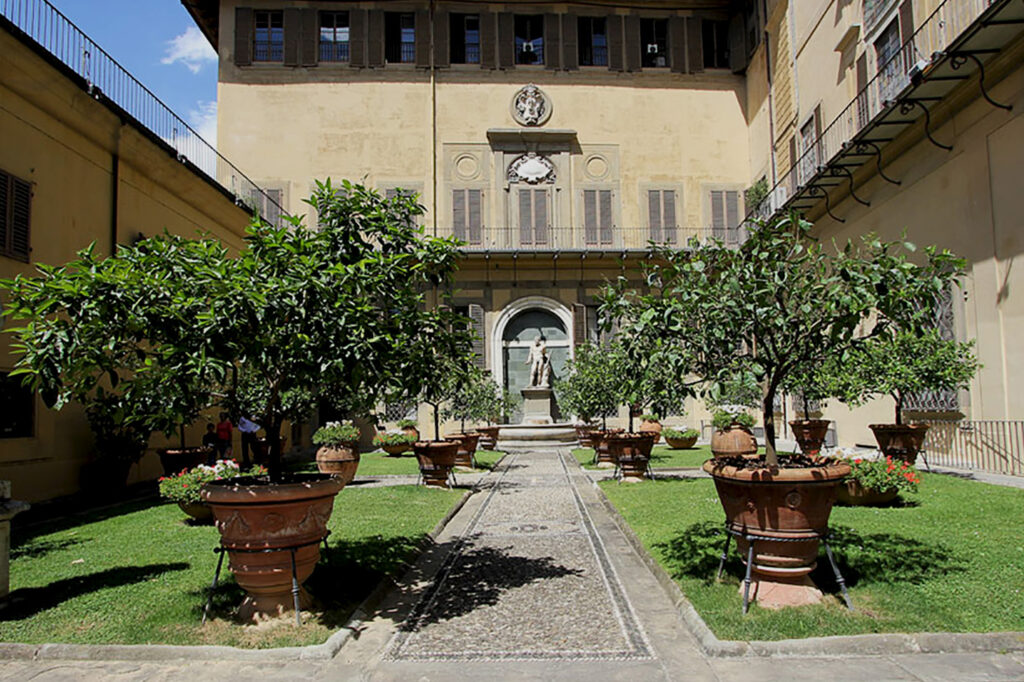 The main stage and the machinery created specifically for this presentation were very elaborate in such a way that it set an example for future theatre presentations. While on stage the play "Il Commodo" by Antonio Landi was presented, the audience, Europe's nobility and great families were seated in luxurious velvety chairs and benches, men and women divided into separated areas according to the period's protocol. The bride, groom and their most notable guests were given the best seats: an elevated veranda that allowed them to enjoy the presentation from a privileged point of view in which a perfect vision of the stage was guaranteed.
One of the novelties of this presentation was the scenography: a 3D stage that gave the audience the feeling of being part of the play. By combining paintings and architecture, the panels used to construct the scenery created an optical illusion by placing different layers using perspectives from the city of Pisa (where the play was set in).  A side staircase was constructed to allow the actors to access the main stage (given the fact that the stage was elevated so that everyone could see the performance, or at least some part of it, depending on the seat you were able to score).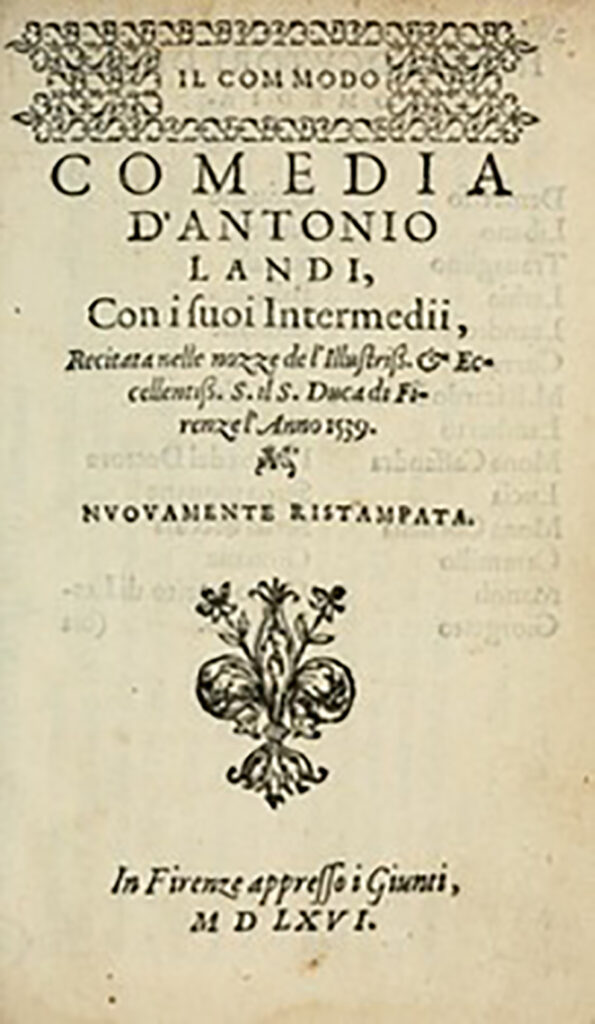 Another novelty was the Intermezzo, or interlude, in which a short presentation with dancing or singing performance was shown during one act and the following one (while the actors and scenario was prepared). These interludes were not associated in any way with the play itself, they were mainly short performances celebrating Tuscany's influence and power over other regions. The Intermezzo shows became increasingly more common during time and were very sophisticated as they displayed beautiful costumes and special effects.
Even though this spectacular performance, its stage and all its elements were projected for Cosimo and Eleonora's wedding festivities it certainly set an example for many other memorable performances during this period in Europe's great courts. As years passed by, these performances changed and evolved as each scenographer and architect contributed with new ideas for their projects, in an effort to outstand previous performances.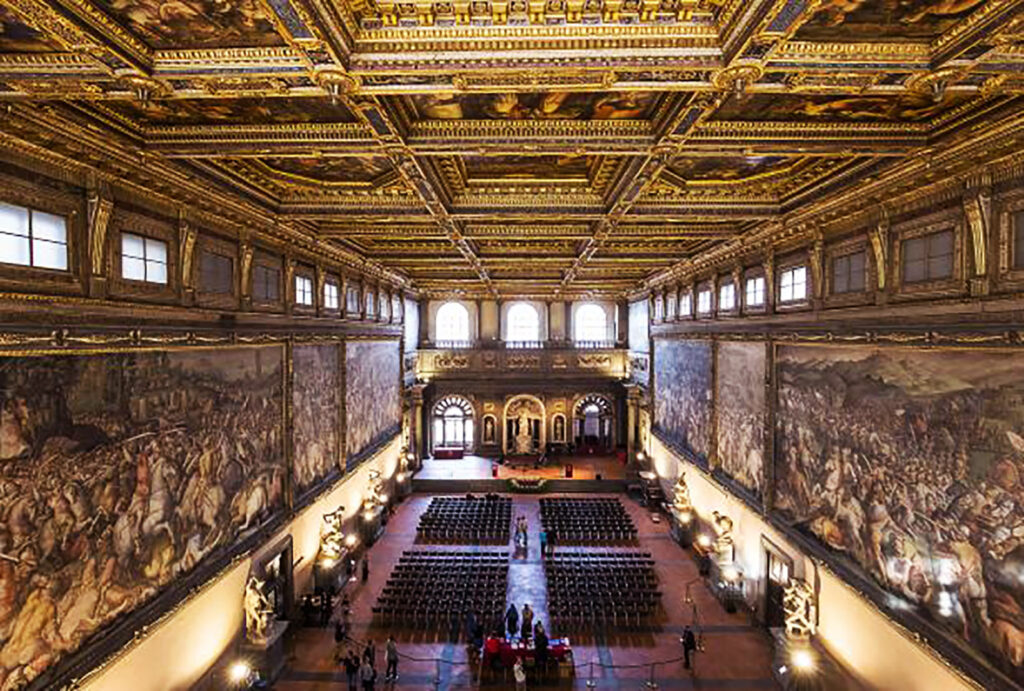 In 1565 during the festivities for the nuptials of Francesco I of Medici and Giovanna of Austria, the play "La Cofanara" by Francesco d'Ambra was performed in Palazzo Vecchio, at Salone del Cinquecento (Hall of the Five Hundred). This magnificent hall was adapted in such a perfect way that it operated as a theatre during the festivities, infinite halls illuminated by majestic chandeliers, elaborated wooden chairs with golden details, placed in rows to accommodate their powerful and affluent guests.
At Casapitti we take inspiration from such events and the small details that defined its grandiosity. Take for instance our gorgeous Gina accent chair. Its elegant form and exquisite carved details bring to mind the beauty and elegance of these majestic halls, and how they were arranged to host these performances. This chair's theatrical yet pleasant vibes is something to be mesmerised by. Add the fact that it's handmade in Italy by expert artisans and you have a unique item that complements any space.
Now returning to theatre, it was after the Medici family transferred from Palazzo Vecchio to Palazzo Pitti that permanent structures for plays and presentations were created, such as the Teatro Mediceo (Medici Theatre) built in 1586 in Galleria degli Uffizi. During this time many other theatres were built in Europe's courts.
It is during this time that Bernardo Buontalenti, known also as the "wizard of theatre's special effects". It was Buontalenti applying his experimental and innovative methods to design different stage machines that were essential during performances, allegorical costumes and the use of fireworks during some presentations. Changing scenes with sliding backgrounds, stage tricks and trapdoors are only a few of Buontalenti's elaborated special effects.
It was actually in 1589 during the wedding festivities for the Grand Duke Ferdinand of Medici and Cristina of Lorena that the play La Pellegrina (The Pilgrim) by Girolamo Bargagli was presented. It was an unusual performance since the sung parts outnumbered the ones recited which mesmerised and amazed the audience, yet again, these were members of royal families and the period's VIP's. This presentation set an unprecedented example of play presentation that was replicated in many other stages, eventually giving birth to one of the most important musical genres still incredibly popular up to this day: Melodramma or Opera.