Florence is a remarkable city. Cradle of the Renaissance and one of Europe's great art cities. Like other places in Italy, Florence has been the home of innumerable artists and artisans that have produced extraordinary pieces, from paintings, sculptures, furniture pieces, and architecture to typical dishes. Historically, Florence has also hosted many artisan work-shops, called "bottega artigianale". Craftsmen that followed traditional techniques, passing their knowledge and skills to new generations, surviving the test of time and change.
In Casapitti we take immense pride in our Italian heritage, paying homage to our traditions and history every time we produce a single piece of furniture. Casapitti fully represents and embraces the Made in Italy philosophy.
We had the enormous pleasure of visiting Tommaso Brogini in his Studio, located in one of Florence's most artistic areas: San Niccolò. We had a lovely chat and were able to ask a few questions about his experiences during his extensive career as an artist.
What does Nonfinito mean and what importance does it have for you?
For me nonfinito (non finished) is communication, because if you are completed you are no longer worth anything to anyone but for yourself. The finite turns on itself. The unfinished gives you the possibility to make contact, above or below. It's open. This is how a city should be: open, like my studio. Open to all, those who want to come and visit, exchange thoughts, see or buy, but also to ask why. Michelangelo taught me this. His David sculpture has not killed Goliath yet (Michelangelo's statue of David) In the David chapter, there is wisdom in his story because victory is told. At the Bargello we have two Davids, one in bronze and one in marble, both that represent the moment in which they have already won. Beautiful and exceptional, however Donatello still did not have the maturity to say something different, Michelangelo on the other side did, not only for a matter of timing, Michelangelo was more mature, but also due to his own character. It was also a time when humanism could say more about itself. And in fact Michelangelo says it, he tells the before. A prelude to victory. A story that everyone can take because they know the episode, but cannot necessarily interact with thought.
Michelangelo's David has not yet killed Goliath, so in the statue you can see all of his concentration, all the planning. In the Old Testament, there is a beautiful story where everything is told before the killing, everything before this great episode.
Before living an episode, whether it is a simple thing or the most beautiful thing in the world, you must also experience what comes first. The prelude leads to the thrill of living an experience. Michelangelo recounts this concentration where the eyes are concentrated, the thought is active, it seems to whirl in the David's head. Then Michelangelo does this beautiful thing, he also puts other signs that make us reflect a lot because David's eyes are different. One eye looks straight, the other to the left, so he squints, his soul is imperfect as all souls are imperfect. Michelangelo takes this step, he teaches not to tell the episode immediately, to stay, to send signals but not necessarily explicit. We have to question ourselves in order to arrive at certain truths, certain things.
Do you think that the role of the artist in the present day has changed a lot from the role of the artist from the past?
It has changed a lot, compared to the artists of the past. It took nine years for Cellini to make the statue of Perseus. Although this statue has remained in Florence for centuries, who would have known it at that time. When in the present an artist would think of using 9 years of their time to make a work of art, One does one thing and one hopes it will remain over time. When the Medici family lived, Florence was full of characters and artists because there were those who subsidized them and helped them to create something great, to create and shape a city. There was an intention to let art come out, to bring out the beauty. The role of art is too different now, because now we almost think of the artist as the one to invest in. Buying a work of art not for the beauty of itself, but to be able to invest money. So art is necessarily different. Currently we have to go after trends or accompany those who need certain things. Kids need to have fun, to see, to live, to strum, to adapt to new trends and fashions.
In my opinion art needs to endure over time, becoming eternal in some sort of way.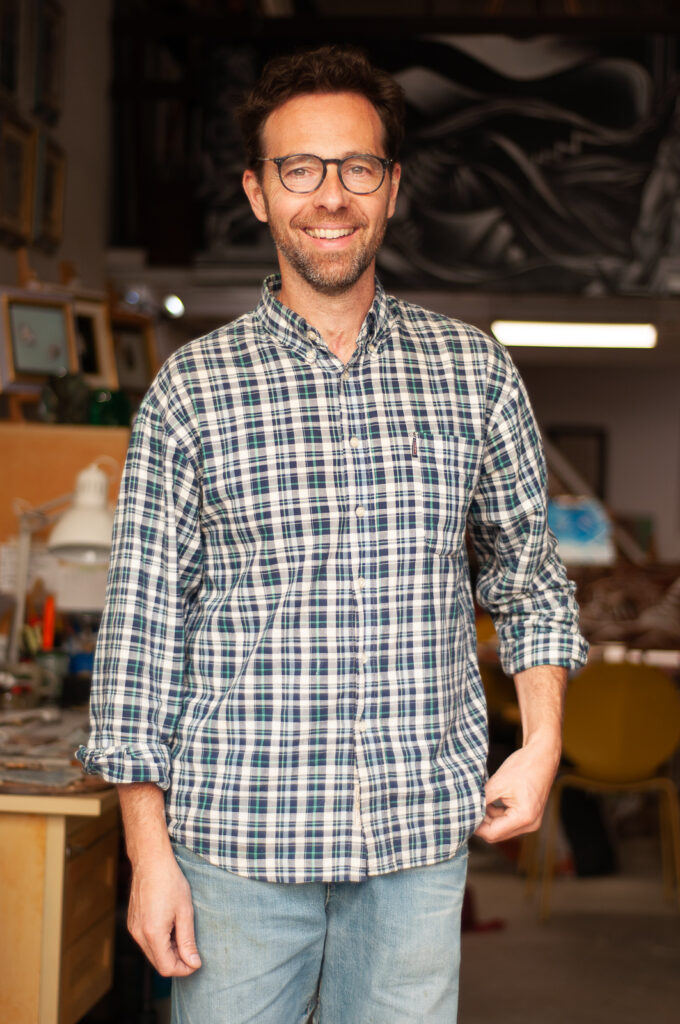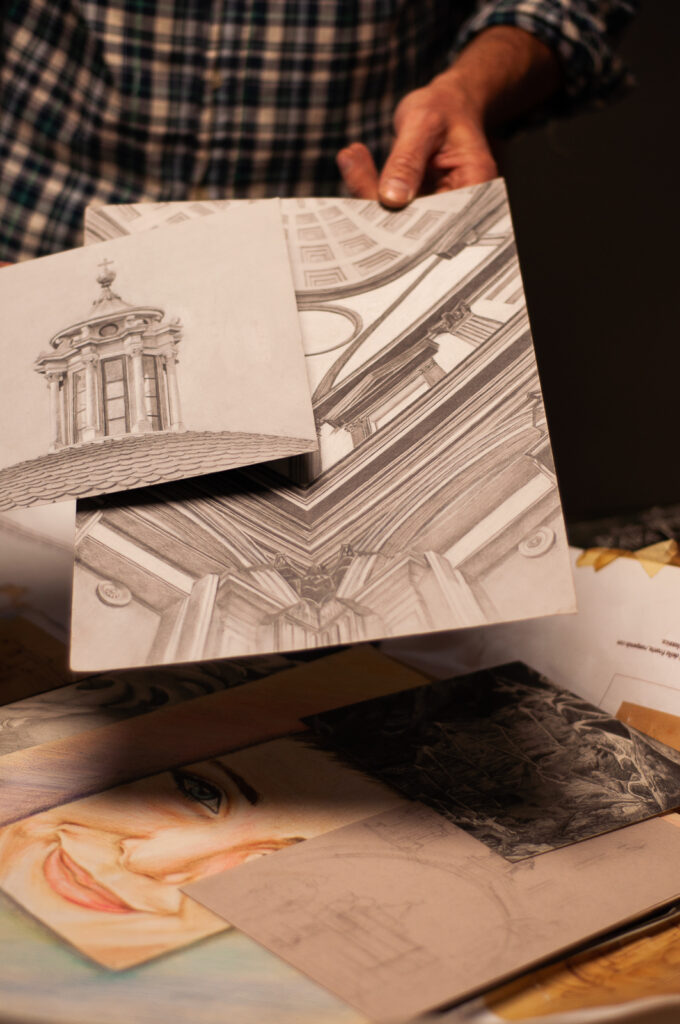 Do you think that artistic skills are due to talent or from continuous study and learning?
I think they are energies, energies that add up over time. For example, that painting has energy (pointing towards one of his paintings) I have done it several times. At simple sight it could be the same but it will never have the same energy. There was something there, and someone. I don't know what or whom, but something. I don't know if it's talent but I followed my project, my passion and this led me to do many things. There have been incredible situations in my life, which I don't think happened by chance.
I did my architecture thesis, and the thesis was seen by a professor. This is a professor that I think possesses a divine soul ,in the way he explained and told things. Art historians, when they are historians, have a way of speaking that does not come only from them. I am referring to the human, non-human is in each of us. There are people who let it out and some that don't. For example Bernini, did Apollo and Daphne, how can you not see that there is not only him there. There is something else there, that work is so unfinished, as much as it is infinite. And so it's an incredible thing. This professor had a way of speaking that was enlightening. He saw my thesis and contacted me. He proposed to me a space in the Medici Chapels to paint a picture. I had to create a painting to pay homage to Michelangelo and his design of the façade of the church of San Lorenzo, commissioned by Pope X, which was no longer built.
We worked together to make this painting, inspired by a linear model by Michelangelo, exhibited in the Buonarroti house. This painting was on display in the Medici Chapels and was then placed in the Buonarroti house for another exhibition. It is currently exhibited in the counter-façade of the church of San Lorenzo. This was something that came from something else, even from my continued practice. I have tried to take my talent forward. I don't know if talent is innate or not, I'm sure something comes around, it comes if you do it with love and passion.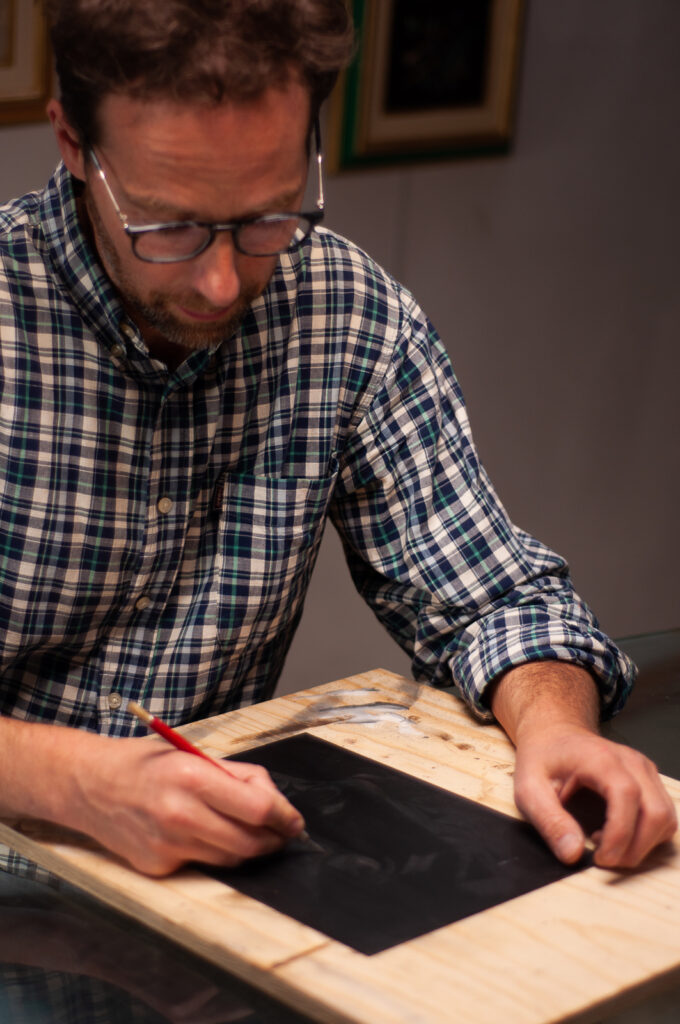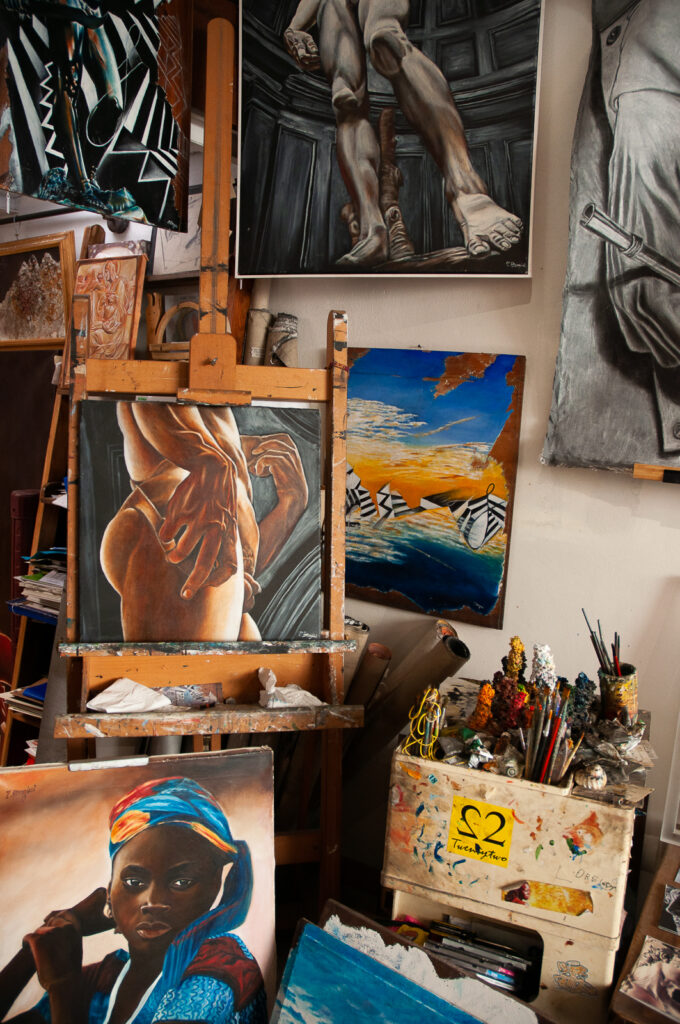 Do your paintings all have a strong studio behind them or are you often moved by free inspiration and impulse to start a piece?
I would like to have more freedom of expression, that is, only a few times I have worked on impulse. In these last little squares with color (showing one of his paintings) I worked on wood inspired by the material. I moved casually. Usually my paintings have projects behind them, thoughts. These are more or less the same. These are the last visions I have had against the war in Ukraine and Russia, so they represent two opposites in different ways, Russia and NATO, or Putin and the rest of the world. That is, two opposing ideas that must necessarily interpenetrate. This symbol that you find on the canvas, which looks like infinity but remains open, is an unfinished one. Here there are two forms that are identical in terms of ideas, but opposite in terms of direction, strength, size, but if you untie another, it falls. Finding balance in all the things we do. I'm here for a project let's say, then depending on how and where I am, different things come out. In general, there is always a project, a construction study and thought.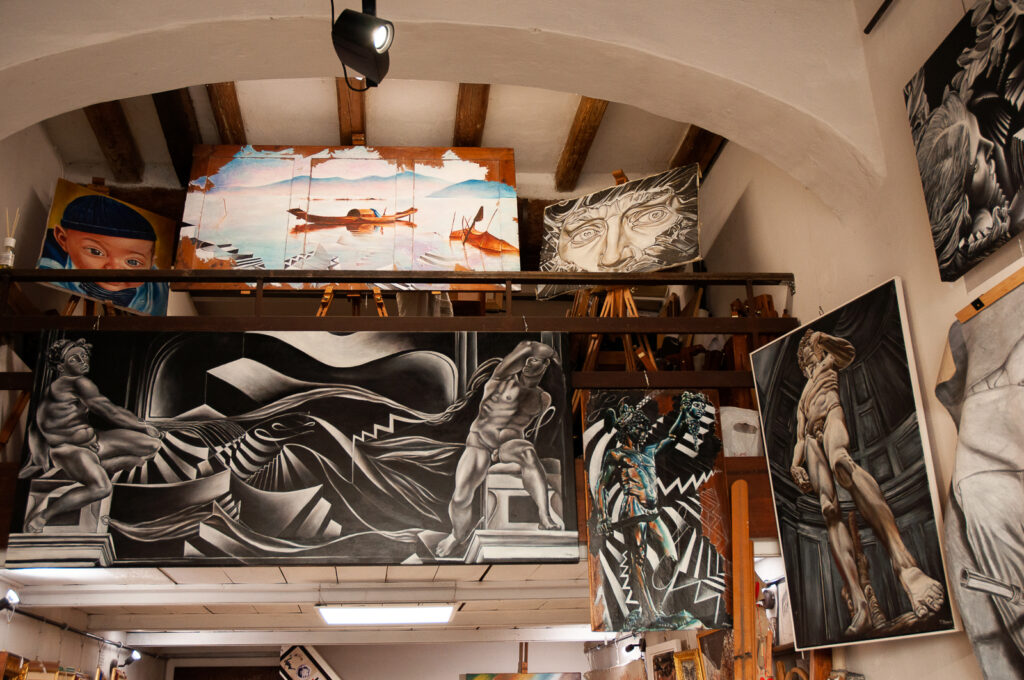 The new generations are detaching a little from the artistic world and from the work of craftsmanship, in a certain way "choosing" more and more the digital world. What do you think?
It is necessary to give the possibility to choose, now there is only one trend. That of doing "first" and "fast" . It is necessary to give the possibility to choose, I have my own story and path. Everyone has their own path and their own circumstances. I gave voice to my hand, if I hadn't had the accident I had maybe things would have been different.
I was in the art institute during the time I had the accident. From the first year of high school I was dedicated to architecture, not painting, not sculpture, only architectural projects. If I hadn't had the accident and everything that happened after that, I wouldn't know where my path would have gone, maybe I would have been more digital too. I do not know. This was my way of being different, I gave voice to my hands by force.
You currently offer courses aimed at people who have never experienced the technique of freehand drawing and oil colors. What stimulated your desire to teach other people the techniques of drawing and painting?
Sharing, the desire to let people know that it is possible, that art is for everyone. For me, drawing and painting were a gift, so I would like to give it to anyone who wants to try it. The first course I taught was just after graduation, in my neighborhood at the time. I was giving courses to various people, groups made up of different types of people. For me it was communicating what for me came automatically, also to others. For someone it becomes an automatic thing. Someone has undertaken it as a job, for someone else it might be a hobby.
Based on your experiences and your strong resilience, what advice would you offer to a person who is going through a difficult period?
To find something personal. Try to undertake something that fills you with passion. Mine was a physical problem, a slowdown that allowed me to be more in touch with my creative side, it gave me time. The questions I'm usually asked in relation to my work are: how long does it take you to do it? I always answer twenty-nine or thirty years, because I've been drawing for twenty-nine years. It is not time that marks things out, it is not because of a thing of itself. It is the time you spend on your journey, whether it's a physical limitation, or a period of difficulty. For example, the period of the lockdown has awakened in many the desire to draw, because there was time for those who were locked up at home. This period has awakened something in many people, a chance to get better. So dedicate some time every day to something we are passionate about.
Finding time for yourself is important. When I was doing architecture I always found some time to draw. It took me a long time to do this painting of David, the first one I did. I devoted a lot of time, energy and passion to it. Currently there is a lot of talk about meditation, I think that trying to design meditation in a certain way happens. Because you are present, dedicating so much time and attention to it. You establish a relationship with your hand, the sheet (or the chosen medium or instrument) and you come into contact with yourself, it is a very important and very strong meditation.