Without a doubt one of the gods' foods is Pasta al Ragù or better yet, Tagliatelle al Ragù. Golden flat strings that dance in rich meat sauce. Some people know this delicious sauce as Bolognese but in Italy we call it Ragù, with its many variations that come from North to South (every family or nonna has their own precious recipe with a magical touch).
You can absolutely make your own Tagliatelle al Ragù at home! It sounds intimidating but it's not as complicated as it sounds. This type of pasta is actually one of the easiest ones to make. Make an event out of it, gather your friends or family and enjoy the moment. Especially if you gather around one of Casapitti's made in Italy beautiful tables with its high performance and resistant porcelain top. It's resistant to scratches, stains or water ring marks, chop away those tomatoes and vegetables, throw in your flour and eggs and work the dough away. The porcelain top gets cleaned so easily you'll forget you prepared your dinner on it.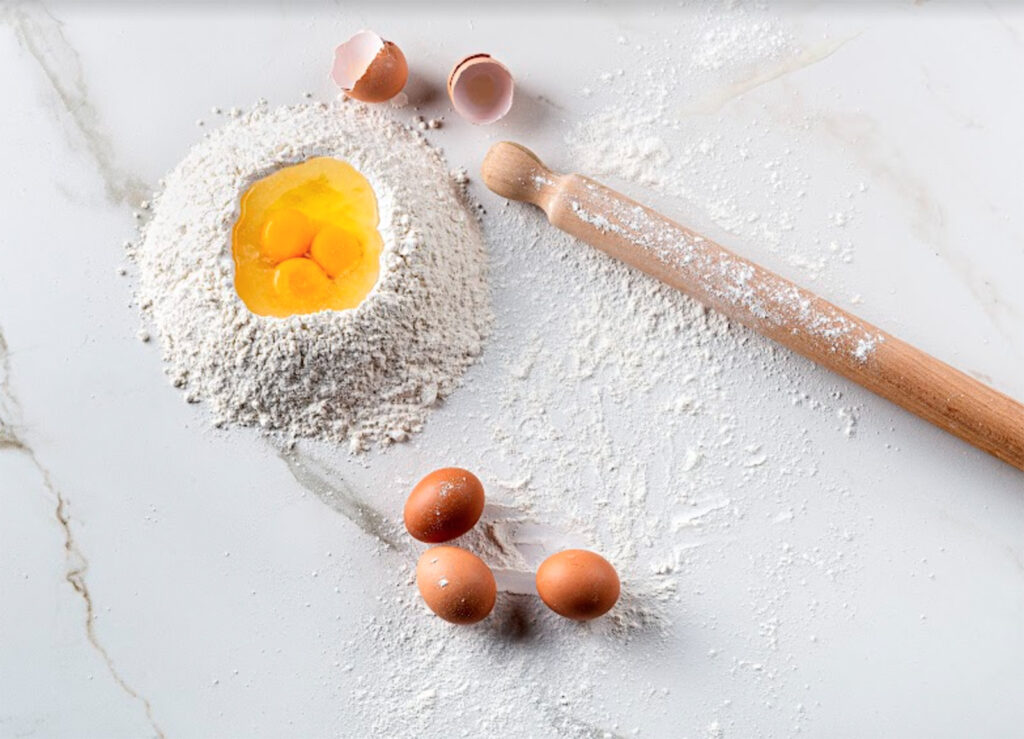 So back to Ragù and Tagliatelle. Ragù was considered a plate on its own, very versatile and used to add more flavor to other dishes or to form a filling but it wasn't considered a sauce to add to pasta. It was up until late 19th. Century that celebrated Italian writer Pellegrino Artusi published his famous book Science in The Kitchen and The Art of Eating Well (La scienza in cucina e l'arte di mangiare bene) where he describes some sort of filling made with on salted pork belly and veal flavored with celery, carrot and onion, all cooked with meat broth. Artusi also suggests some additions to enrich this seasoning: mushrooms, truffles, chicken livers along with milk. This recipe went through different changes throughout the years, almost twenty years to be more precise.
It was at the beginning of the 1900's that almost all cooking book authors agreed that Ragù was a meat sauce to pair with tagliatelle. Of course you can pair other types of pasta with Ragù, but most Italians prefer their Ragù with tagliatelle.
So roll up your sleeves and prepare your table top to prepare this delicious typical Italian dish.
To prepare the Tagliatelle dough you will need:
-2 large eggs
-200g of 00 flour, plus extra for dusting
Place 180g of the 0 flour onto a large wooden board. Pour the remaining 20g of flour into a small bowl, ready to use if necessary. Shape the flour into a volcano with a large hole in the centre, then crack the eggs and pour them into the middle. Using a fork, lightly beat the eggs, then mix in the flour a little at a time. It is essential that the flour is gradually beaten into the eggs to ensure the walls of the volcano don't break too soon. Add the reserved 20g of flour if the dough is too moist. Bring the mixture together with a spatula and your hands until you obtain a consistent ball of dough. Work the dough with the heel of your hand for 10–15 minutes, or until the mixture is smooth and very elastic. Wrap the dough in cling film and refrigerate for at least 30 minutes. Dust a wooden board with 1 tbsp of flour. Unwrap the dough and flatten it with a rolling pin. Roll out the dough into thin pasta sheets, less than 1mm thick. If you have a pasta machine, divide the dough into 4 before rolling it out. To cut the pasta sheets into tagliatelle, roll the sheets up and cut into large 0.75cm strips. Unravel the cut tagliatelle strips and twirl into little nests. Dust the nests liberally with flour to stop them from sticking. Cook the tagliatelle within a few hours in boiling salted water for 3–5 minutes before serving with your homemade Ragù.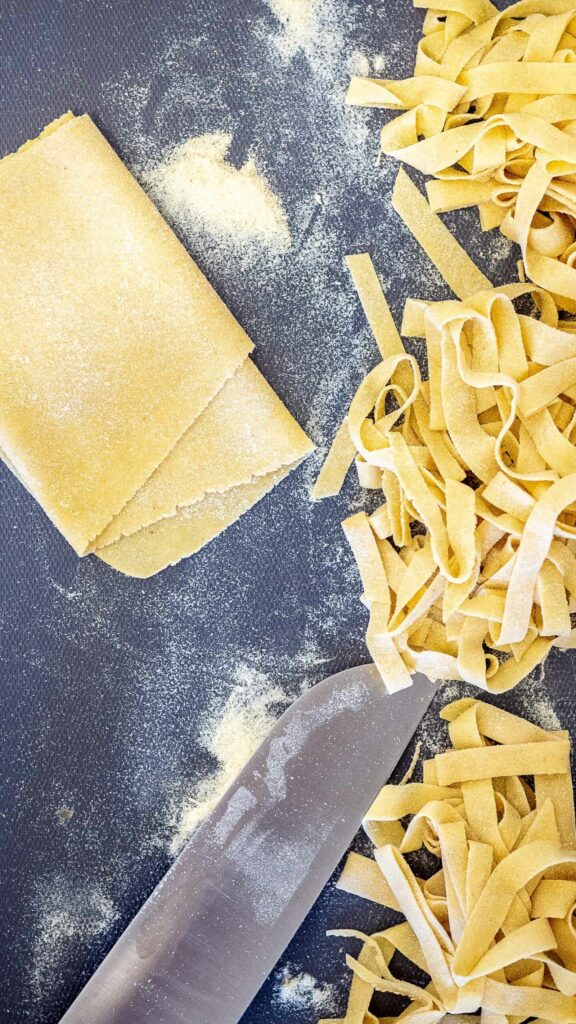 To prepare the Ragù:
Serves 4
1 lb. fresh egg tagliatelle
3⁄4 lb. ground beef
1⁄3 lb. pancetta
1 1/4 cups puréed tomato passata
3⁄4 cup beef broth
2 carrots
2 celery stalks
1⁄2 small onion
1⁄2 cup red (or dry white) wine
1⁄2 cup milk
extra-virgin olive oil
salt – pepper
Chop the pancetta. Trim the celery, carrots, and onion, and mince them all into fine pieces.Heat a pan with a drizzle of oil, sauté the pancetta, add the vegetables and gently sweat until soft. Add the meat and sauté for 5 minutes. Add ½ cup wine and allow to completely evaporate.
Add the tomato passata and stir for a few minutes. Add ½ cup milk and cover with the broth. Cook the meat sauce for 2-3 hours, adding more broth every now and then while adjusting the seasoning.