Casapitti's mission is to bring into your home our Italian artistic heritage and expert craftsmanship. Beautiful and functional Made in Italy furniture by skilled artisans using certified materials. As you might know, each Casapitti furniture piece is destined to last for generations and become more beautiful over time. Our artisans craft every item by hand.
A beautiful table or kitchen is not only about its design, the material selected to build it plays a key role in its performance, durability and aesthetic. Mainly if these beautiful design objects are also destined to be used in everyday activities such as cooking or something as simple as having a meal. There are some really beautiful and traditional materials used to construct these items such as marble but let's face it, marble comes with a long list of cons along with its beauty, due to its porous surface which easily stains, sometimes permanently. Marble will scratch or if exposed to acid for a prolonged period, it will etch where the polish or sealant fades. Many marble countertops can cost a pretty penny, and to have it easily stained can be a disappointment.
Fortunately technology has developed a high performance, durable, extra resistant and sustainable option. This material has the solidity of Carrara marbles, the malleability of travertine, uniform colours of volcanic rocks, like basalt and obsidian. Yes porcelain stoneware we're talking about you. Only the purest materials are used to create porcelain. It is made with minerals, clays, feldspars and silicon, while natural colours complete the esthetic effect.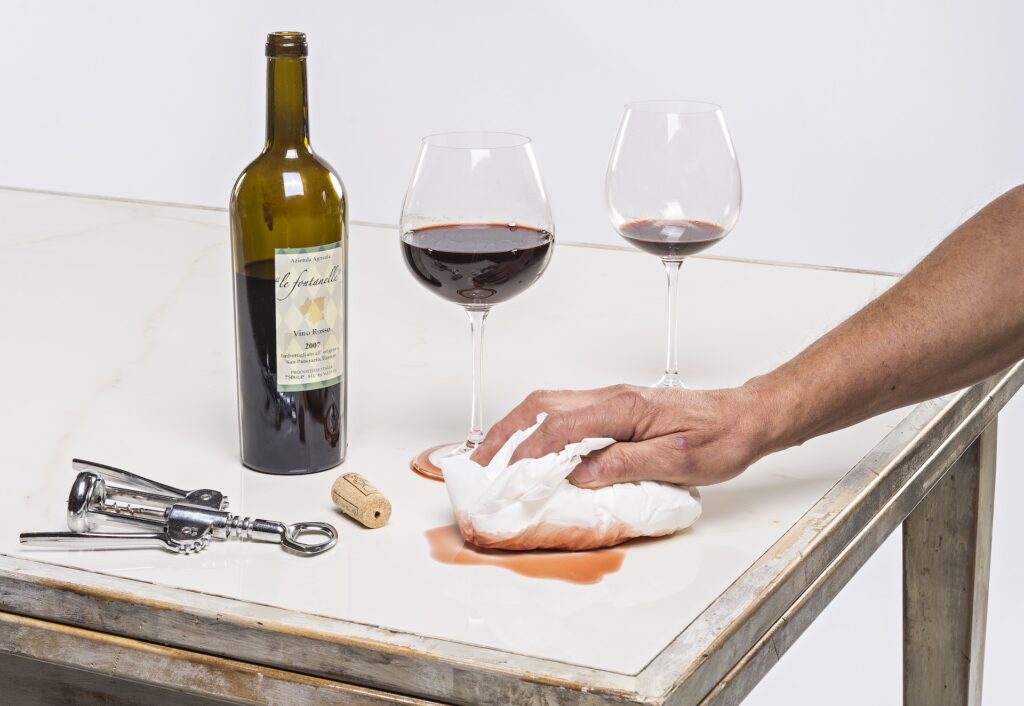 This outstanding material has an incredible amount of qualities. It is resistant to the most common acids, such as vinegar, lemon juice, cola (orthophosphoric acid) and hydrochloric acid. These acids corrode the calcium in marble but leave no trace on ceramic surfaces.
You can also prepare your meals on porcelain stoneware tops without worrying about scratches (except glossy porcelain which can be scratched) stains or water ring marks, chop away those tomatoes and vegetables, prepare that delicious homemade pasta you've always wanted to make without the worry; residue and stains are no problem here.
Also because of its non porous surface it has an average water absorption of 0.1%. organic substances such as bacteria (that cause allergies and illnesses) won't build up on its surface. You can also use disinfectants on it since it is highly resistant as we mentioned before.
Porcelain is one of the best options to use as a top for a table: it has no problems with hot pans or plates, coffee or burning oil, unlike marble, wood, laminated plastics, or agglomerates containing resin, which are all damaged by heat.
Having your whole family gathered around the table is always a fantastic occasion, but truthfully, if you have small children it is very likely that some spilling and some food mess will occur but fear not since this material is incredibly easy to clean no residues are left behind, so why deny yourself the pleasure of enjoying some family time without concerns.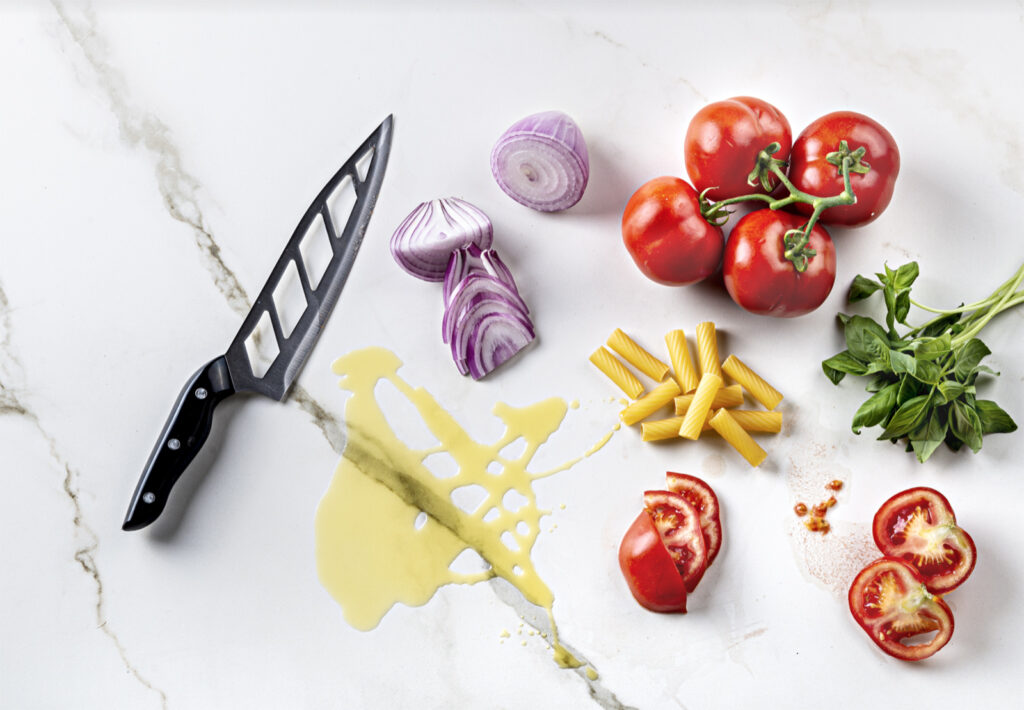 Last but not least, one of the qualities we love the most is its aesthetic versatility. Due to its advanced technology it has different possibilities of decoration and colouring. Think of a material as beautiful as marble, terracotta or even steel, but unbelievably resistant. It complements other materials beautifully such as wood or steel. Something you probably didn't know is that porcelain slabs are also used on building facades or outdoor pavements, even though it is exposed to environmental elements such as rain and UV rays, porcelain still maintains its stunning qualities over time.
So there you have it, porcelain stoneware is simply amazing, and we proudly use it to manufacture our enchanting made in Italy dining tables. Beautiful and functional made by expert craftswomen and craftsmen and meant to last forever.